Will Allen is a typical 7-year-old athlete. Baseball, football, soccer and basketball were regular seasons in the Allen home but that all changed February 3, 2019. Will and his father, Tim, were leaving baseball practice and were in a devastating car accident near their home. Will was left wheelchair bound as a result of the wreck.
Will sustained injuries to his C1/C2 vertebrae and T3/T4, which is where the damage is located that created the new reality for this Dripping Springs family. Will underwent an almost 5-hour surgery where the surgeons placed rods and pins in his small back to allow for self-sustained stability down the road after his months/years of recovery ahead of him.
To know Will is to know unsurpassed determination and grit and as inspiring as it is, it isn't enough to get him out of that chair. Therapy and hard work will be a part of Will's everyday reality. Will is determined to walk again one day and that is the prayer of his family and friends. In the meantime, these are areas where the community can help. It is in the things that affect the day to day for families in situations like this where you can make a difference.
Therapies recommended:
Physical Therapy
Occupational Therapy
Aquatic Therapy
Equine Therapy
E-Stimulation Therapy
Costs: Although in Will's case, some therapy is covered right now through insurance however, the recommended numbers of sessions exceed what is included and the cost out of pocket is $250 per session.
Did you know?
Insurance does not cover everything (for Will's example):
· Several bills, at least 50 currently, and more to come, where the majority is not covered (surgery bill totaled $75,000 and only $8,000 was covered) Additional invoices to come: 6 week stay at Dell children's, primary hospital where he was stabilized before moved to Dell, ambulatory services, physical therapy while admitted, mental therapy to help a 7 year old grasp his new reality, medications and more.
· They only cover what is considered "home use" they do not cover anything that is needed to get Will out in to the community or for social activities (i.e. seatbelt for chair not covered, transit straps for public transportation although required by law is not covered by insurance), portable ramps to go places that are not ADA are not covered
· Items insurance views as "affordable" is not covered, even though it is needed for daily activities and adds up over time (bowel program supplies, other restroom supplies, etc.)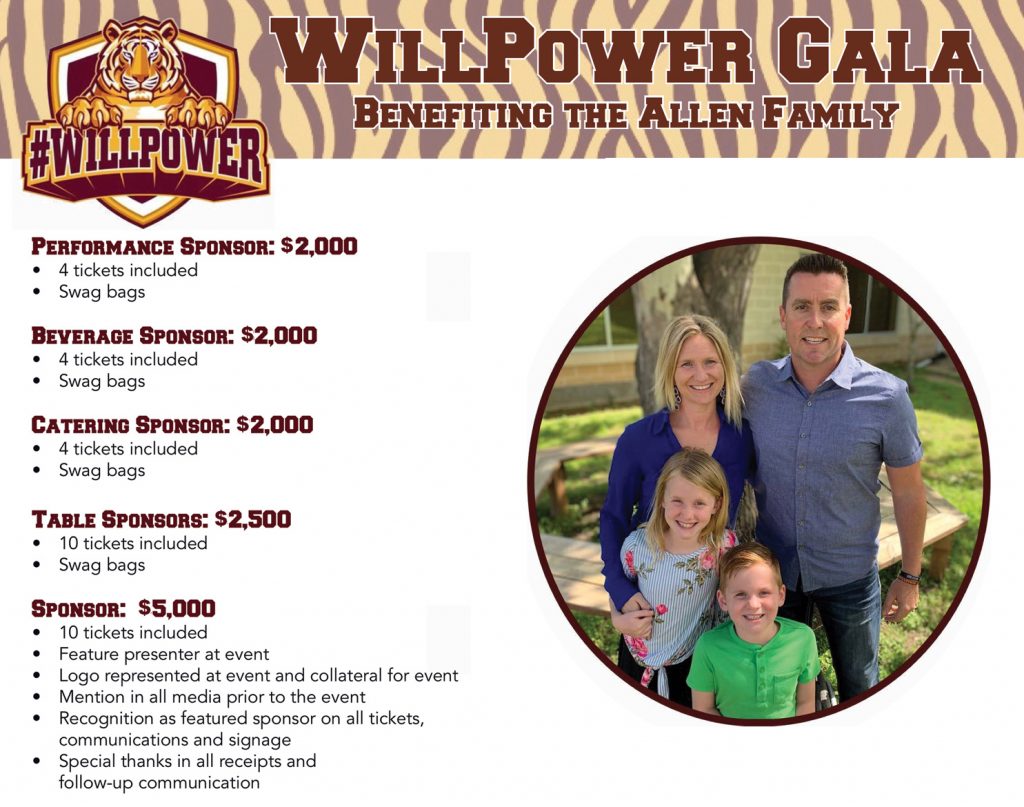 · Only one wheeled device is covered every five years. When a 7yr old outgrows his current chair (if in 5 years), out of pocket costs for a new one.
· Again, in a case like Will's he has been prescribed to stand twice a day, but insurance will not cover the stander with wheels because they are already covering 1 wheelchair this year and this is considered a wheeled device, only 1 every 5 years.
· Equipment for Will to do therapy at home as well as in the clinic
Other treatment plans: stem cell treatment (travel associated with this), electric stimulation, equine therapy, aquatic therapy, etc. will all be out of pocket.
https://www.eventbrite.com/e/willpower-gala-when-community-becomes-family-tickets-63409558697?utm-medium=discovery&utm-campaign=social&utm-content=attendeeshare&aff=escb&utm-source=cp&utm-term=listing
Location:Addison Grove 11903 Fitzhugh Road Austin, TX 78736
Tickets on sale 7/1/2019
Sponsorships available:


Texas Lottery Veteran Recognition: Lew Griffith

Lew Griffith grew up in Austin, Texas during the early turn of the 20th century. As he approached high school graduation, the nation's preoccupation with fighting World War II not only influenced Griffith's education and career, but also paved the way for a life devoted to service and duty.

Big Boi to headline Longhorn City Limits presented by Still Austin Whiskey Co. on September 16

AUSTIN, TEXAS – Seven-time GRAMMY award winner Big Boi, one-half of OutKast, will headline Longhorn City Limits presented by Still Austin Whiskey Co. on Saturday, Sept. 16.  The FREE gameday concert, located on the LBJ Lawn, will open at 3 p.m. with live music prior to the Texas Football vs. Wyoming game at 7 p.m.